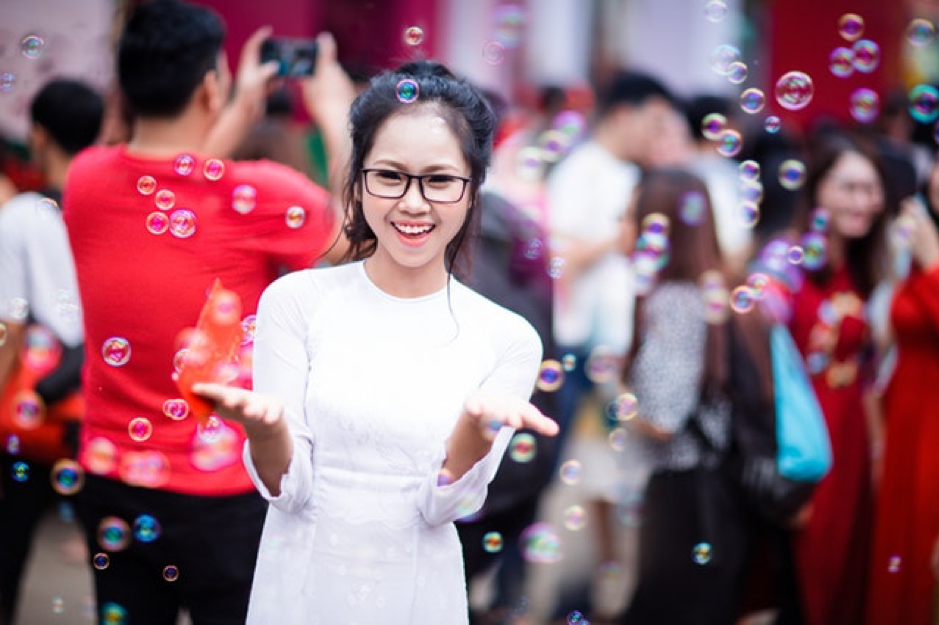 When we think Chinese New Year, it's inevitable to think of the beautiful garments we wear during the festive visiting. You may have already figured out the right shoes to pair with your floral dress, or the right belt buckle for your brand new printed shirt, but what about your spectacles? Here are some spectacle fashion tips to complement your Chinese New Year outfit and looking dazzling!
Red Top
It's Chinese New Year. One day of visiting or another, you're bound to wear red – or something remotely close to red – in your outfit. Seems easy to match, right? Just get a pair of red frames and you're good to go. However, think about how overwhelming it would be – red shoes, red dress, red pants, red spectacles – too much of the same colour may not be a good idea. If you are indeed wearing a red top, we suggest complementary shades of red. For example, if you're choosing a bright red dress, try a brownish maroon coloured pair of frames, and if it's a deep red shirt; a orange-reddish one. Another alternative would be to wear a contrasting colour, but not one that's too loud. Perhaps you could try cyan or turquoise coloured spectacles, which is a plus point, since light blue-green mixtures are the craze now!
Floral Prints
Floral and Motif print tops are hot-sellers right now, as they add an interesting artistic element to an otherwise plain top. While they may be trendy, the design of the top itself is outstanding, so much so attention is automatically drawn to the motifs. That's where you get to choose: do your glasses take a backseat or go toe-to-toe with your top? If you seek the 'laid back, no-frills look' we suggest pairing your patterned top with a dark neutral coloured pair of spectacles, with minimalistic frames. That way, the frames supplement the oomph factor of your top, without looking too 'lazy'. If you want your glasses to get all the spotlight, we suggest going for a complementary-coloured, patterned frame. White and red polka dot shirt? Go for a leopard-print spectacle frames. Show them how loud you can be. How about an elegant turquoise dress with oriental-floral motifs? Try a marble-slab motif frame, and you'll end up looking relaxed, yet chic.
During Chinese New Year, we all want to look good while visiting our distant relatives during the joyous occasion. Yet, many think that when it comes to spectacles, it's a small part in the overall outlook of their dressing styles. However, we see spectacles as more than just a functional aid, it also has cosmetic or ornamental function. Yes, the colour or frame of your spectacles will not make or break your entire outlook, but you can definitely give it a boost simply by choosing the right pair, so why not give yourself that boost this Chinese New Year? Want to know more about matching your spectacles with your outfit? Read more here!