Sports Eye Injury and Protection
Article by: Lim Pei Ni | Optometrist | Sport On @ Kallang Wave
Sports related eye injuries are fairly common, but they are usually not reported. Often, people take safety for granted and do not wear any protective eyewear for sports. If you gear up with cleats and shin guards for soccer, or gloves and paddings for boxing, then why not safety glasses for your eyes?
Sports related eye injuries comprise up to 20% of all eye injuries requiring medical attention and that does not include other minor injuries that go unreported. In the US, it is reported that approximately 30,000 individuals show up at the Emergency Department for sports related eye injury every year.
Frequent causes of such eye injuries include sports such as basketball, tennis, baseball, fishing, martial arts and also golf. Sports can be classified into low, moderate, and high risks of getting an eye injury.

Even day to day sports like basketball and badminton are considered high risks of suffering an eye injury, hence it is essential to take protective safety measures to prevent accidents from happening.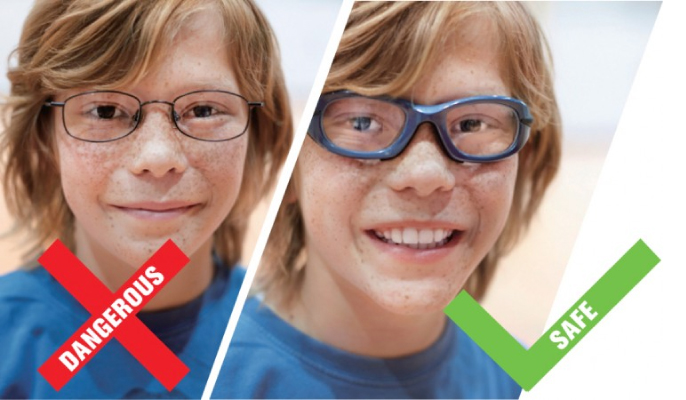 Preventing sports eye injuries can be as simple as getting a pair of protective eyewear. It is important to identify the appropriate type of eyewear that can be used for protection. To qualify as a protective eyewear, glasses/goggles have to go through a series of tests such as testing for high velocity impact resistance. The protective eyewear has to meet the impact standards of the American Standards for Testing and Materials (ASTM). Different standards describe different type of sport glasses depending on the characteristics of the design.
ASTM F803: Eye protectors for selected sports such as soccer, basketball, field hockey, squash and etc. (Sports goggles with polycarbonate lenses)
ASTM F513: Eye and face protective equipment for hockey players
ASTM F1776: Eye protectors for paintball players
ASTM F659: High impact resistant eye guards for Skiers
Apart from choosing the right type of eyewear, how the eyewear fits in the face is also very important. It is necessary to find one that fits properly. The eyewear should have a little allowance for comfort, but they should not be too big or small as this might compromise the amount of protection provided, increasing the risk of an eye injury. It should also not obstruct any peripheral vision as that may affect the sports performance of the individual and increase the risk of getting hit from the sides.
By bearing these tips in mind when choosing a protective eyewear, you can enjoy sports with a peace of mind. After all, at the end of the day, we all want to gear up with some cool outfits/equipment and enjoy sports that we love. Don't we?
References:
American National Standards Institute. (2016, January 25). Standard Specification for Ski and Snowboard Goggles. Retrieved from https://blog.ansi.org/2016/01/standard-specification-for-ski-and/#gref
ASTM International. (2014). ASTM F803 - 14 Standard Specification for Eye Protectors for Selected Sports. Retrieved from https://www.astm.org/Standards/F803.htm
ASTM International. (2018). ASTM F513 - 12(2018) Standard Specification for Eye and Face Protective Equipment for Hockey Players. Retrieved from https://www.astm.org/Standards/F513.htm
ASTM International. (2018). ASTM F1776 - 18 Standard Specification for Eye Protective Devices for Paintball Sports. Retrieved from https://www.astm.org/Standards/F1776.htm
Dain, S. J. (2016). Sports eyewear protective standards. Clinical and Experimental Optometry, 99(1), 4-23. doi:10.1111/cxo.12349
Heiting, G. (2017, January). Find Out Which Protective Sports Eyewear Is Best For You. Retrieved from https://www.allaboutvision.com/sports/protection.htm
Pieramici, D. J. (2017). Sports-Related Eye Injuries. JAMA, 318(24), 2483. doi:10.1001/jama.2017.17560
Progear Vision Lab Inc. (n.d.). Sports frame instead of everyday frame [Photograph]. Retrieved from https://www.progearvisionlab.com/eye-injury/
The Vision Council. (n.d.). Eye Safety At-a-Glance. Retrieved from https://www.thevisioncouncil.org/sites/default/files/SportsEyeSafetyReport.pdf
Wiley X. (n.d.). ASTM F803 Standard. Retrieved from https://www.wileyx.com/technology/protection/astm-f803-standard